Kevin Fischer is a veteran broadcaster, the recipient of over 150 major journalism awards from the Milwaukee Press Club, the Wisconsin Associated Press, the Northwest Broadcast News Association, the Wisconsin Bar Association, and others. He has been seen and heard on Milwaukee TV and radio stations for over three decades. A longtime aide to state Senate Republicans in the Wisconsin Legislature, Kevin can be seen offering his views on the news on the public affairs program, "InterCHANGE," on Milwaukee Public Television Channel 10, and heard filling in on Newstalk 1130 WISN. He lives with his wife, Jennifer, and their lovely young daughter, Kyla Audrey, in Franklin.

Previously on This Just In…

The update:

I didn't feel the need in that blog since my readers are so astute to reference that it was the 5th anniversary of the birth of the Tea Party Movement. Rick Santelli had no idea his rant would launch a political movement that, like it or not, has had a substantial political impact.

Did you know that?

OK. Do you know who really founded and leads this movement?

Could you provide the necessary response if thousands of dollars were riding on FINAL JEOPARDY?






Tea Party Patriots National Coordinator Jenny Beth Martin wrote this in a piece for TIME last year on the 4th anniversary of the Tea Party about troubling times in early 2009:

"We went from a big family home to a smaller rental. From an upscale neighborhood to a modest one. And we created our own job: scrubbing the floors and cleaning the bathrooms of our friends and former neighbors. Even though my family was offered one of those government-backed bailout loans to save our family home, we refused to take it.

"Our 'head office" was our car. Inside our car was a radio. And it was on that radio — as we drove from house to house on February 19, 2009 — that we heard the words that would change our lives forever: 'This is America! How many of you people want to pay for your neighbor's mortgages [when they have] an extra bathroom and can't pay their bills?'
"The contrast hit hard. While my husband and I cleaned our neighbor's bathrooms to pay our bills, our government was mortgaging our children's future to pay for the mortgages of those who could not, or would not, pay their bills.
"The speaker on the radio was CNBC reporter Rick Santelli, on the floor of the Chicago Mercantile Exchange, in his now-famous rant that sparked the modern Tea Party movement. 'We're thinking of having a Chicago Tea Party in July,' he said. 'All you capitalists that want to show up at Lake Michigan, I'm gonna start organizing.'
"The next day, we started organizing, too. The next week, the first 'Tea Party' rallies took place across America. Within a year, the Tea Party Patriots became the biggest grassroots organization in the country."

One year after the Tea Party exploded, the NY Times did a piece that featured another Tea Party member, an unlikely leader.

"Keli Carender has a pierced nose, performs improv on weekends and lives here in a neighborhood with more Mexican grocers than coffeehouses. You might mistake her for the kind of young person whose vote powered President Obama to the White House. You probably would not think of her as a Tea Party type.

"But leaders of the Tea Party movement credit her with being the first.

"A year ago, frustrated that every time she called her senators to urge them to vote against the $787 billion stimulus bill their mailboxes were full, and tired of wearing out the ear of her Obama-voting fiancé, Ms. Carender decided to hold a protest against what she called the 'porkulus.'

"I basically thought to myself: 'I have two courses. I can give up, go home, crawl into bed and be really depressed and let it happen,' " she said this month while driving home from a protest at the State Capitol in Olympia. 'Or I can do something different, and I can find a new avenue to have my voice get out'."
A huge 5th anniversary event is planned in Washington.
Normally the news media stumbles all over itself to do stories about special anniversaries. Not this time. This story will be severely under-reported. The mainstream reporters that decide to give it attention will do as they always do: paint the Tea Party as...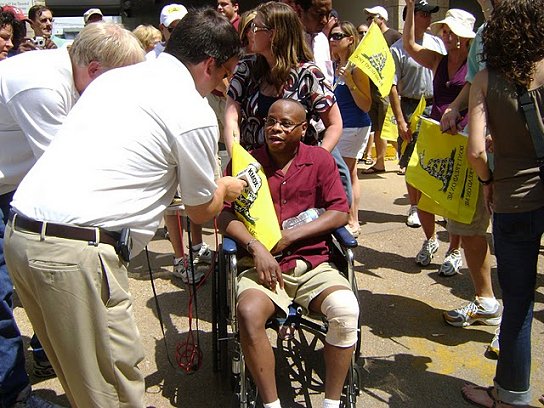 Mean, cruel, uneducated, racial, delusional and violent.


This site uses Facebook comments to make it easier for you to contribute. If you see a comment you would like to flag for spam or abuse, click the "x" in the upper right of it. By posting, you agree to our Terms of Use.