Kevin Fischer is a veteran broadcaster, the recipient of over 150 major journalism awards from the Milwaukee Press Club, the Wisconsin Associated Press, the Northwest Broadcast News Association, the Wisconsin Bar Association, and others. He has been seen and heard on Milwaukee TV and radio stations for over three decades. A longtime aide to state Senate Republicans in the Wisconsin Legislature, Kevin can be seen offering his views on the news on the public affairs program, "InterCHANGE," on Milwaukee Public Television Channel 10, and heard filling in on Newstalk 1130 WISN. He lives with his wife, Jennifer, and their lovely young daughter, Kyla Audrey, in Franklin.

Take a look at the following photo. What do you see?




You're pretty certain you know what that is. But it's also possible to see that picture and think of…


For real political junkies no explanation is necessary. But I'll provide one anyway.

The delicious, flaky, yummy kringle is the latest entry as a state symbol in the Wisconsin Blue Book, now designated as the official state pastry. The 2013-15 state budget signed into law includes this provision:

"The Wisconsin Blue Book shall include the information contained in this section concerning the state song, ballad, waltz, dance, beverage, tree, grain, flower, bird, fish, animal, domestic animal, wildlife animal, dog, insect, fossil, mineral, rock, soil, fruit, tartan, and pastry."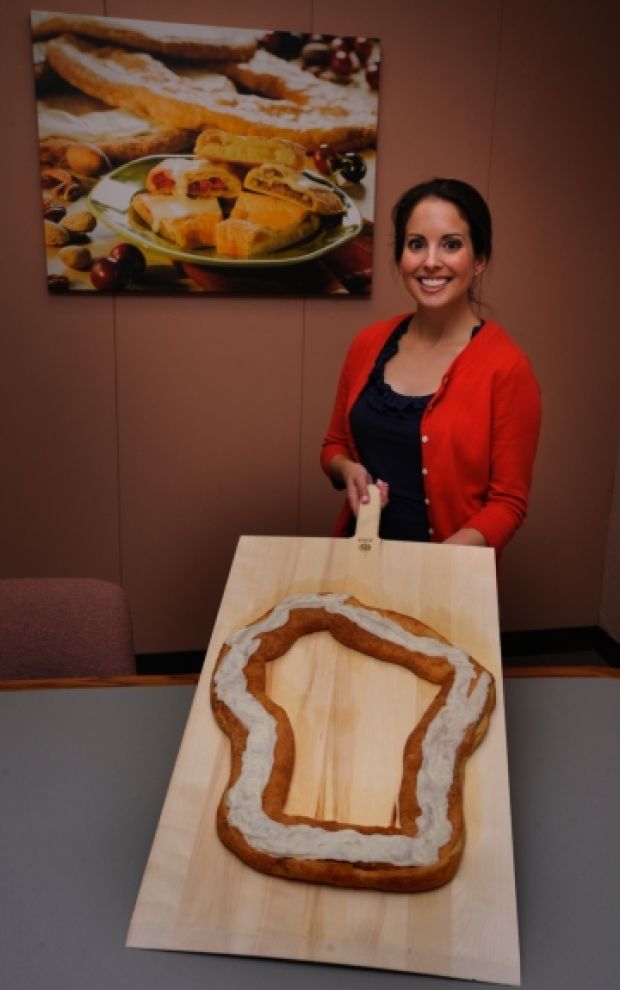 O&H Bakery of Racine spokesperson Sara Willing holds up the Wisconsin-shaped cream cheese kringle that was specially designed to commemorate kringle as the official state pastry. This kringle is considered "party size" and is considerably larger than the kringles commonly found in O&H stores. Photo: Racine Journal Times

The proposal to make the kringle the "state pastry" was contained in the state budget even though it was a non-fiscal item, a scenario that lawmakers ideally try to avoid, but often don't. It was authored by a Racine Assembly Democrat, Cory Mason. Democrats at the time were and still are the minority party in both houses of the WI legislature. Despite being a non-fiscal item put forward by the minority party, naming the state pastry was one of few items to win resounding bipartisan support in an otherwise-contentious budget process.

To gain ever greater support, Mason chose to label the kringle as a "pastry" so as not to knock heads with another state symbol proposal being talked about, the cream puff as the official "state dessert." The same dual strategy was used in Maine which has a state treat, the whoopee pie, and a state dessert, blueberry pie.

During the 2011 regular session of the WI Legislature, Senate Bill 100 designating the cream puff was introduced by state Senator Mary Lazich on behalf of Mrs. Coley's 2010-11 4th Grade Class from Mukwonago Clarendon Avenue Elementary School.

Lazich was invited by the class to hear why the bill was a good idea, and students even traveled to Madison to testify in support.

Generally, that's how these proposals to create a new state symbol work. Led by their teacher, some Wisconsin students study an issue and suggest that their elected state legislator(s) introduce a bill. After consideration and agreement, the legislator (usually through an aide) has the state's Legislative Reference Bureau draft the bill, which doesn't take much time or effort. The text of the cream puff bill contained only 78 words.




Put yourself in the shoes of a lawmaker in Madison. Young students from your district conduct thorough research, propose an idea, collect signatures in support, and respectfully request that you introduce legislation. Pretty tough to say no.

But that doesn't stop the naysayers. Here are some of the on-line comments made about the cream puff plan:


Now that's what I call important state business. The economy is in the tank, gas prices are out of this world, joblessness is running rampant and Wisconsin Legislators are introducing bills to name a state dessert. Wow!
OMG what a waste of time.
Good to hear they are taking time to work on the important issues.
I thought this was an Onion headline at first. I know its a harmless bill and a complete waste of time, but with the curent rate of obesity in this state, why do we need an official dessert?

I am ashamed to tell anyone I am originally from Wisconsin. What an embarassment for the citizens.

Would the last sane person to leave the state please hit the lights?

Ok so I'm glad I'm not the only one disturbed by this.


Though the cream puff bill passed in the state Senate, it never came up for a vote in the state Assembly. State symbols don't always win. Efforts to name a state microbe and a state motorcycle also failed in Wisconsin.

The best intentions can open the door widely to lots of criticism. That's what's happening now in
Rhode Island where folks are up in arms about...








Fried squid rings with banana peppers. Calamari.








State Representative Joe McNamara (D) wants squid rings with banana peppers designated as Rhode Island's official state appetizer. His supportive arguments: Calamari is a convenient way to highlight Rhode Island's fishing and restaurant industries, the state has the largest squid fleet on the East Coast, Rhode Island ships to all 50 states and around the world, and the designation could boost tourism. Rhode Island's squid fishing industry brings in about 23.5 million pounds per year with annual landings worth about $18.5 million per year. More pounds of squid are brought to store in Rhode Island than any other seafood. Rhode Island has the largest squid-fishing fleet along the eastern seaboard. The fishing, hospitality and tourism industry is crucial to the economy of the state.

McNamara introduced the bill last year. It died. He's introduced it again. Just last week…



News, Weather and Classifieds for Southern New England


The opposition has arguments, too.

The jobless rate in Rhode Island currently is 9%. That's the highest in the nation.

Rhode Island in some studies is considered the worst state to do business.

No other state has a state appetizer.
You've seen the TV video. Let's go to the comments section on the TV station's website:


Our politicians priorities smell fishy, don't you think?

It still amazes me that we are the highest unemployed state in the country and the biggest concern in The House is the "state appertizer bill" Wake up RI....start voting these people out!!!!

Are you kidding me? With the highest unemployment rate in America the priority is taking up a bill to name calamari the official appetizer of RI? What the heck is going on? Too afraid to tackle the real issues?

We must look like complete idiots to other states... LOL

REALLY!!!!!!!!!!!!!!!!!!!!!!!!!!!!!!!. I have no words

Unfreakin' believable ....

Nice.... if you like fried rubber bands

Why do we need a state appetizer??? We need jobs and laws that make sense. God help us!
The State is going down the Toilet. Highest Unemployment rate in the Country. And these Morons are worrying about Calamari. That just proves that these Legislators think everyone is Stupid. You know what? They ARE.

We need to vote these idiots OUT ASAP!!!!

There are better ways to show kids how the process works.

Definition of crazy.....
Yikes!

Maybe this comment from another website sums it up best:

"I'll miss the food in Rhode Island, but I needed a job so I had to leave."

And BTW, it's inevitable some lawmaker in WI will someday propose a similar bill. If so, it had better be deep fried cheese curds.


CULINARY NO-NO BONUSES

You can't make them eat it.


The weirdness of ballpark food.


Hold the ranch, please.


Dying to eat there? Not me.


Remember our recent no-no about a bare-hand ban in California?
This site uses Facebook comments to make it easier for you to contribute. If you see a comment you would like to flag for spam or abuse, click the "x" in the upper right of it. By posting, you agree to our Terms of Use.