Kevin Fischer is a veteran broadcaster, the recipient of over 150 major journalism awards from the Milwaukee Press Club, the Wisconsin Associated Press, the Northwest Broadcast News Association, the Wisconsin Bar Association, and others. He has been seen and heard on Milwaukee TV and radio stations for over three decades. A longtime aide to state Senate Republicans in the Wisconsin Legislature, Kevin can be seen offering his views on the news on the public affairs program, "InterCHANGE," on Milwaukee Public Television Channel 10, and heard filling in on Newstalk 1130 WISN. He lives with his wife, Jennifer, and their lovely young daughter, Kyla Audrey, in Franklin.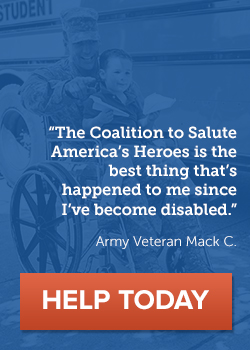 You've been a loyal and generous friend to our disabled troops and veterans.

And I'm hoping I can count on your generosity one more time.

As I'm sure you've heard in the news recently, our disabled heroes can't count on our government to take care of them. Our veterans are waiting an average of 10 months to receive their first disability check after separating from service.

They are waiting long, painful months to receive the treatments they need. And some of them have even died while waiting for medical care from a heartless bureaucracy.

It's clear our government isn't taking care of them quickly enough. So it's up to you and me to help our troops severely disabled in the war on terror -- NOW, before it's too late.

By now you've heard from me several times about our 2014 Fourth of July Emergency Aid Drive -- the Coalition to Salute America's Heroes' project to help our severely disabled troops and their families with emergency financial aid to avert homelessness, hunger, and other financial disasters.

I haven't received a response from you. I know you're probably busy getting ready for the Fourth of July holiday and maybe enjoying some time with your family and friends. But I'm hopeful you will take a moment to remember the sacrifices of the brave men and women who put themselves in harm's way to defend our freedom and our families from terrorism.

This is your LAST CHANCE to make a special, patriotic Fourth of July gift. Your generosity has already done so much. But many more wounded heroes need our help this Fourth of July - and I'm hoping I can count on you again to make whatever gift you can to help a disabled veteran facing financial disaster.

Because every situation is different, the amount of emergency aid and what it's used for varies widely from case to case. But no matter the amount, your gift goes to work right away to help a disabled hero on the brink of financial disaster.

Sometimes we make back payments to help avoid a foreclosure. Sometimes it's paying rent so a disabled veteran and his or her family isn't turned out into the street. Sometimes it's a check to put food on the table. Sometimes it's making a car payment, catching up on auto insurance bills, or putting gas in the car to insure a wounded hero can get to his or her doctor appointments for treatment.



But what's important is this:




There's little we can do to ease the physical and mental suffering that accompanies amputated limbs, gunshot wounds, spinal injuries, traumatic brain injuries (TBI), scarring burns, or PTSD.




Remember, no gift is too small to make a difference. Because when you're facing eviction, foreclosure, or car repossession, or wondering how you're going to keep the lights on or feed your family, every dollar counts. I know I can count on you to make the most generous gift you can.

This Fourth of July we celebrate our country's birthday and the freedom our disabled veterans gave so much to defend. They sacrificed unhesitatingly for the safety and freedom of your family and mine. Now it's our turn to be there for them and their families . . . when they need it most.

From the Coalition's family to yours: Happy Independence Day!

Your generosity makes me proud to be an American. Thank you for doing all you can to help our severely disabled troops and veterans.

Sincerely,



General John K. Singlaub
U.S. Army (Ret.)

P.S. I know you care about America's severely disabled troops and veterans because you've given generously to help them in the past. I'm so thankful for your support and your patriotic spirit. I'm confident I can count on you to help again by making a donation to the 2014 Fourth of July Emergency Aid Drive today - before it's too late for even one disabled hero.


Providing Emergency Aid to Troops Severely Disabled in the War on Terror
Coalition to Salute America's Heroes | PO Box 96440 | Washington, DC 20090-6440 | www.saluteheroes.org | 1-888-447-2588
CSAH is a nonprofit 501(c)3 organization and contributions are tax-deductible.
This site uses Facebook comments to make it easier for you to contribute. If you see a comment you would like to flag for spam or abuse, click the "x" in the upper right of it. By posting, you agree to our Terms of Use.