Kevin Fischer is a veteran broadcaster, the recipient of over 150 major journalism awards from the Milwaukee Press Club, the Wisconsin Associated Press, the Northwest Broadcast News Association, the Wisconsin Bar Association, and others. He has been seen and heard on Milwaukee TV and radio stations for over three decades. A longtime aide to state Senate Republicans in the Wisconsin Legislature, Kevin can be seen offering his views on the news on the public affairs program, "InterCHANGE," on Milwaukee Public Television Channel 10, and heard filling in on Newstalk 1130 WISN. He lives with his wife, Jennifer, and their lovely young daughter, Kyla Audrey, in Franklin.
Here we go again. The LA Times reports:

A convicted murderer in Arizona gasped and snorted for more than 90 minutes after a lethal injection Wednesday, his attorneys and witnesses said, dying in a botched execution that prompted the governor to order an investigation and the state Supreme Court to mandate that the materials used in the procedure be preserved.
Joseph Rudolph Wood III's execution almost certainly will reinvigorate the national debate over the death penalty. He received an injection at 1:52 p.m. at the Arizona State Prison Complex in Florence. The execution became so prolonged that reporters witnessing the execution counted several hundred of his wheezes before he was finally declared dead at 3:49 p.m. — nearly two hours after the procedure began.
The incident comes in a year in which lethal injections had already triggered controversy over botched procedures and secrecy.
Wood had fought without success to get more information about the drugs and the expertise of his executioners. His request, which was rejected by the U.S. Supreme Court, prompted one prominent appellate judge to call for the return of the firing squad.

Remember, it was death penalty opponents years ago that argued if capital punishment was to be imposed that it should be humane and the only real humane form would be a lethal injection.

The ACLU is calling on Arizona Governor Jan Brewer to halt all capital punishments. Brewer says she's concerned and has ordered a review. At the same time she offers the proper perspective:

"One thing is certain, however, inmate Wood died in a lawful manner, and by eyewitness and medical accounts he did not suffer," Brewer said in a statement. "This is in stark comparison to the gruesome, vicious suffering that he inflicted on his two victims — and the lifetime of suffering he has caused their family."

Ah, yes. The nearly forgotten element of the story, often buried; the victim, and in this case, it's plural.

From the Daily Mail:

Wood was sentenced to death for killing Debra Dietz and her father, Eugene Dietz, in 1989 at the family's automotive shop in Tucson.
Before the murders, Wood and Debra Dietz, 29, had a tumultuous relationship in which he periodically assaulted her. Dietz tried to end their relationship and got an order of protection against Wood.
On the day of the shooting, Wood went to the auto shop and waited for Dietz's father, who disapproved of his daughter's relationship with Wood, to get off the phone. Once the father, 55, hung up, Wood pulled out a revolver, shot him in the chest and then smiled.
Wood then turned his attention toward Debra Dietz, who was trying to telephone for help.
Wood grabbed her by the neck and put his gun to her chest. She pleaded with him to spare her life. An employee heard Wood say, 'I told you I was going to do it, I have to kill you.' He then called her an expletive and fired two shots in her chest.







Did you catch the fact that Wood survived about 25 years after his conviction before being put to death? I submit justice was carried out, just far too late.

So, did Wood suffer "excruciating" pain?

"You don't know what excruciating is," Jeanne Brown told KTLA after the execution.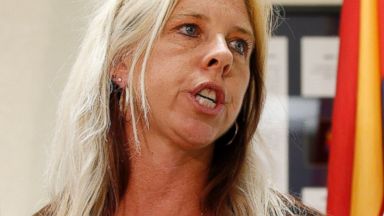 "What's excruciating is seeing your dad laying there in a pool of blood, seeing your sister laying there in a pool of blood. This man deserved it. And I shouldn't really call him a man."

Bingo.

And finally, here's a column by a death penalty opponent that makes a brutally blunt point:

We pretend to have concern for the murderer, that we want our state-sponsored killing to be humane, to be civilized – as if such a thing is possible.

But we don't want such things for the murderer. We want them for ourselves. We want the killing to be swift and "peaceful" so that killing a person doesn't upset us.

This site uses Facebook comments to make it easier for you to contribute. If you see a comment you would like to flag for spam or abuse, click the "x" in the upper right of it. By posting, you agree to our Terms of Use.