Kevin Fischer is a veteran broadcaster, the recipient of over 150 major journalism awards from the Milwaukee Press Club, the Wisconsin Associated Press, the Northwest Broadcast News Association, the Wisconsin Bar Association, and others. He has been seen and heard on Milwaukee TV and radio stations for over three decades. A longtime aide to state Senate Republicans in the Wisconsin Legislature, Kevin can be seen offering his views on the news on the public affairs program, "InterCHANGE," on Milwaukee Public Television Channel 10, and heard filling in on Newstalk 1130 WISN. He lives with his wife, Jennifer, and their lovely young daughter, Kyla Audrey, in Franklin.




November 2010

"If anything, taxes for the lower and middle class and maybe even the upper middle class should even probably be cut further," (Warren) Buffett said in an interview with ABC's "This Week With Christiane Amanpour" that is scheduled to air on Nov. 28. "But I think that people at the high end -- people like myself -- should be paying a lot more in taxes. We have it better than we've ever had it."

August 2011

Warren Buffett wrote in a guest column in the NY Times:

"But for those making more than $1 million — there were 236,883 such households in 2009 — I would raise rates immediately on taxable income in excess of $1 million, including, of course, dividends and capital gains. And for those who make $10 million or more — there were 8,274 in 2009 — I would suggest an additional increase in rate."

Warren Buffett is an extremely wealthy man.

He's also a big time liberal.

And it appears he's a hypocrite with a capital "H".

In one of the biggest, most talked about news stories of the past week, Miami-based Burger King confirmed on Tuesday plans to buy Tim Hortons for about $11 billion. According to the company's website, "The Tim Hortons chain was founded in 1964 in Hamilton, Ontario. The chain's focus on top quality, always fresh product, value, great service and community leadership has allowed it to grow into the largest quick service restaurant chain in Canada specializing in always fresh coffee, baked goods and homestyle lunches."

Burger King's proposed acquisition would establish a new fast-food giant that will be based in Canada. The potential move drew even greater attention to "inversions."

In an inversion, a U.S. firm relocates—usually through a merger with a smaller company—to a country where tax rates and rules are considered to be friendlier. The firm is still managed from the U.S.

Steven Hayward writes on Power Line, "American corporations buy foreign companies and 'relocate' their headquarters to a foreign nation to lower their corporate income taxes. Kind of like what rich northeasterners do when they retire and move to Florida (no personal income tax), or as any number of American companies have done by moving to Texas (lower taxes and less nonsense of every other kind)."
Totally legit. Completely legal. Been going on for a long time. Forty-seven U.S. companies have shifted headquarters abroad in the past 10 years at least, in part, to avoid paying U.S. taxes — a more than 60 percent jump compared to the prior two decades combined, according to the nonpartisan Congressional Research Service. And one of the major reasons there's been a wave of "inversions" in America is quite simple:







It's a double whammy. As Hayward emphasized on Power Line, the U.S. not only has the highest corporate tax rate in the world, but it's the only country that taxes corporations on their worldwide profits—not just what is earned inside the U.S. Many corporations pay foreign tax and then U.S. tax.

Liberals hate inversions, referring to them as "unpatriotic." That's a hoot coming from that flag-burning bunch. So along comes Warren Buffett, a long-time Barack Obama lieutenant in their crusade to raise taxes. Buffett's high-profile business transaction to escape from and evade American taxes has liberals in full-blown hair-on-fire mode.

Jared Bernstein, a former chief economist to Vice President Biden says, "Enough already with the inversions, which look to me to be the loopiest of loopholes, and which seem to be coming fast and furious these days."

U.S. Senate Banking Subcommittee Chairman Sen. Sherrod Brown, D-Ohio, called for a Burger King boycott.

"Burger King's decision to abandon the United States means consumers should turn to Wendy's Old Fashioned Hamburgers or White Castle sliders," Brown said. "Burger King has always said 'Have it Your Way'; well my way is to support two Ohio companies that haven't abandoned their country or customers." Wendy's is based in Dublin, Ohio, while White Castle is headquartered in Columbus.
Roger Hickey, co-director of Campaign for America's Future, a liberal group advocating for economic issues said of Burger King, "They are seen rightly as unpatriotic and turncoats. People have a lot of choices. Burger King is going to feel the pressure from U.S. consumers, from politicians, from activist citizen groups."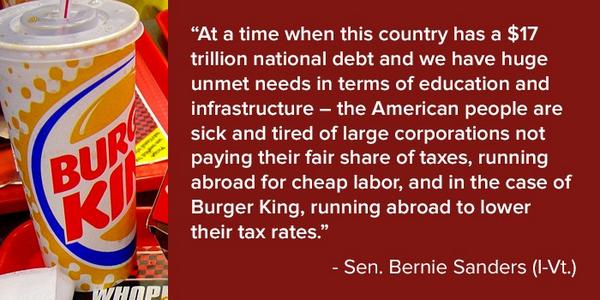 Not surprisingly there's a different perspective from the right. Again, David Harsanyi on the Federalist:

"…the Burger King move isn't really about "inversion" anyway. This is a merger…, so it seems implausible that the deal was made for reasons of tax sedition alone. When you merge with a company from another country, one that helps diversify your reach worldwide, it seems like a basic fiduciary responsibility to place your headquarters in the spot that offers you the best business climate. And though Burger King's move won't save much in the immediate future, it seems that choosing Canada makes sense."
Roger Thorndike applauds Buffett on Forbes.com, saying the multi-billionaire is not a hypocrite:

"Yes, he has repeatedly argued that rich people should be required by law to pay higher taxes. And he may even believe that profitable corporations have a duty to pay up, too.
"But Buffett has always made clear that he supports changes to the tax law, not voluntary changes to personal or corporate tax behavior. As he said last year, 'I will not pay a dime more of individual taxes than I owe, and I won't pay a dime more of corporate taxes than we owe. And that's very simple.'
"Buffett's position is completely reasonable. After all, it's the same standard most of us use in our personal tax lives. Few of us pass up tax benefits, even when we're not convinced of their public purpose or economic utility.

"He's a guy who knows he has a good thing going but is decent enough to acknowledge that society should ask more of him.

"Want to know what real hypocrisy is? It's feigning outrage about inversions while refusing to consider any realistic action to curb them."

In the end, will it matter?

"They (Burger King) are going to have a backlash that is loud, but will be short-lived. Most people will not be thinking about their patriotism when they are pulling through the drive-through at Burger King."

That's Kevin Scott, co-founder of branding consultancy ADDO Worldwide who says many customers who eat at fast-food chains prefer speed and quality over politics.





CULINARY NO-NO BONUSES


Tossing the First Lady's lunch


Is Starbucks out of its gourd?


OK, but where's the mustard?


This site uses Facebook comments to make it easier for you to contribute. If you see a comment you would like to flag for spam or abuse, click the "x" in the upper right of it. By posting, you agree to our Terms of Use.